Why donate?
The global prison system is in crisis, with more people incarcerated than ever before. Over 10.35 million men, women and children are in prison around the world, a large percentage for minor, non-violent offences. Around 3.3 million of these are awaiting trial, with many spending more time on remand waiting for their case to be heard than they would ever receive as a prison sentence if and when they are convicted. 'Tough on crime' policies and the 'war on drugs' have also fuelled ineffective and unnecessarily punitive sentences. Imprisonment has become the default response to socially unwanted behaviour, without consideration of the far-reaching consequences beyond the person imprisoned or of what is actually effective in protecting our communities.
Minor, petty offences continue to attract prison sentences, including poverty-related crimes like theft or drug use and possession. People from minority groups and indigenous communities continue to be caught up in criminal justice systems at disproportionate levels, which often reflects the social and economic exclusion of such groups.
Penal Reform International works to promote the rights of all who come into contact with the justice system. We also campaign for alternatives to detention, proportionate sentencing, an end to the death penalty, effective monitoring mechanisms to prevent torture and ill-treatment in prison, and appropriate responses to women and children in the criminal justice system.
PRI uses a unique combination of advocacy, internationally recognised research and practical grassroots programme work to tackle complex problems across criminal justice systems worldwide.
At the heart of all of PRI's work is the goal of fair and effective criminal justice systems that respect the rule of law, uphold the rights of suspects and defendants, and ensure safer communities through rehabilitation.
Can you help us achieve this?
Where will your donation go?
Click here to learn more about the advocacy and programme work you could help to fund.
This infographic shows how our expenditure was divided across our priority areas last year.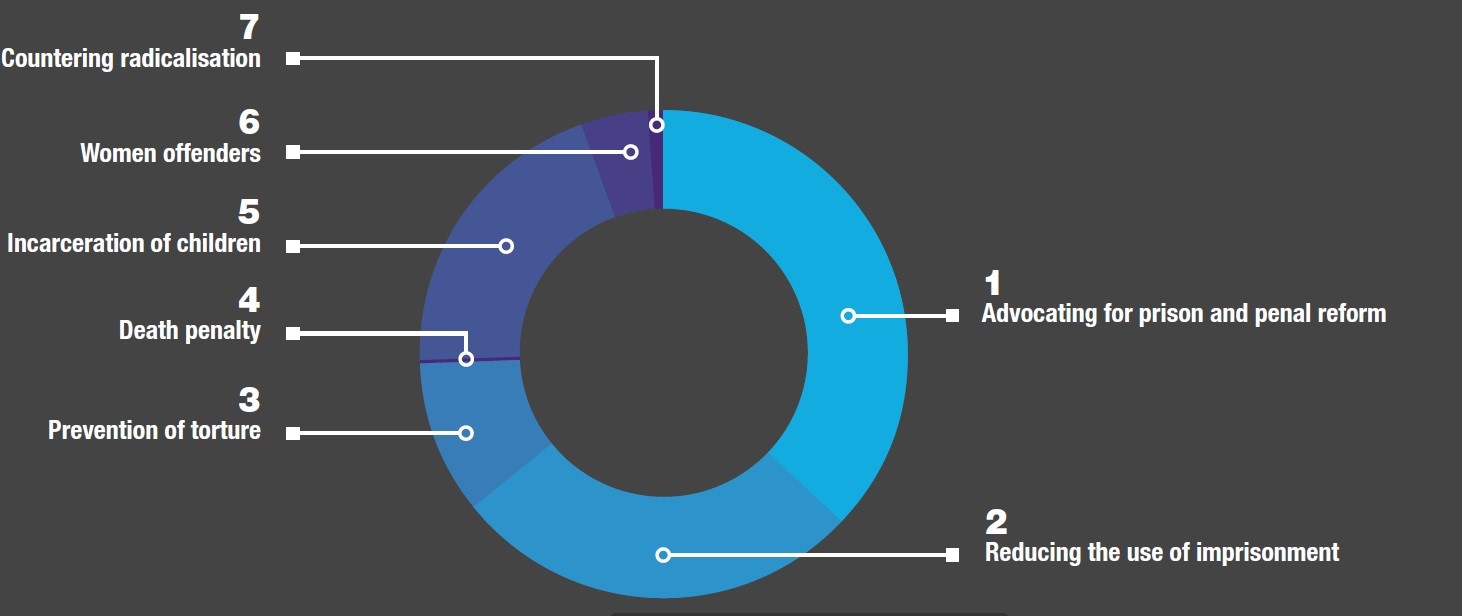 PRI has a long and fruitful history of working with governmental organisations, but we are also looking to diversify our income and welcome donations of any kind.
Donate now
To make a donation, please contact us on +44 (0) 207 923 0946 or by email at info@penalreform.org
Alternatively, you can send a cheque payable to 'Penal Reform International' to:
1 Ardleigh Road, London, N1 4HS
Online donation coming soon
You may also want to consider fundraising for us – perhaps by holding a bake sale in your office, hosting a quiz night or participating in a challenge. We are more than happy to help you come up with ideas and discuss this further.
Volunteer with us
We have offices in London, Uganda, Kazakhstan, Jordan and Georgia and we are currently looking for individuals with the following experience:
Graphic design
Film and photography
Animation
Translation
Research
Legal support
If you are skilled in any of these areas or think you can support us in a meaningful way, please do not hesitate to contact us to discuss how we could work together.
Please email info@penalreform.org, briefly outlining your skills and experience, and we will get in touch to discuss how you can get involved.